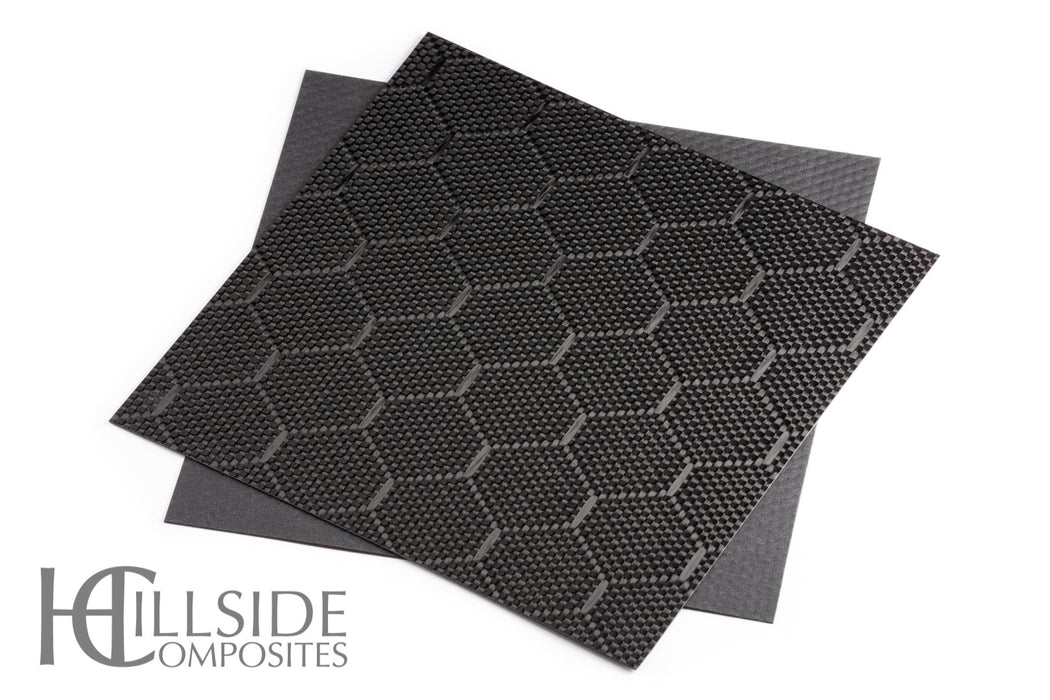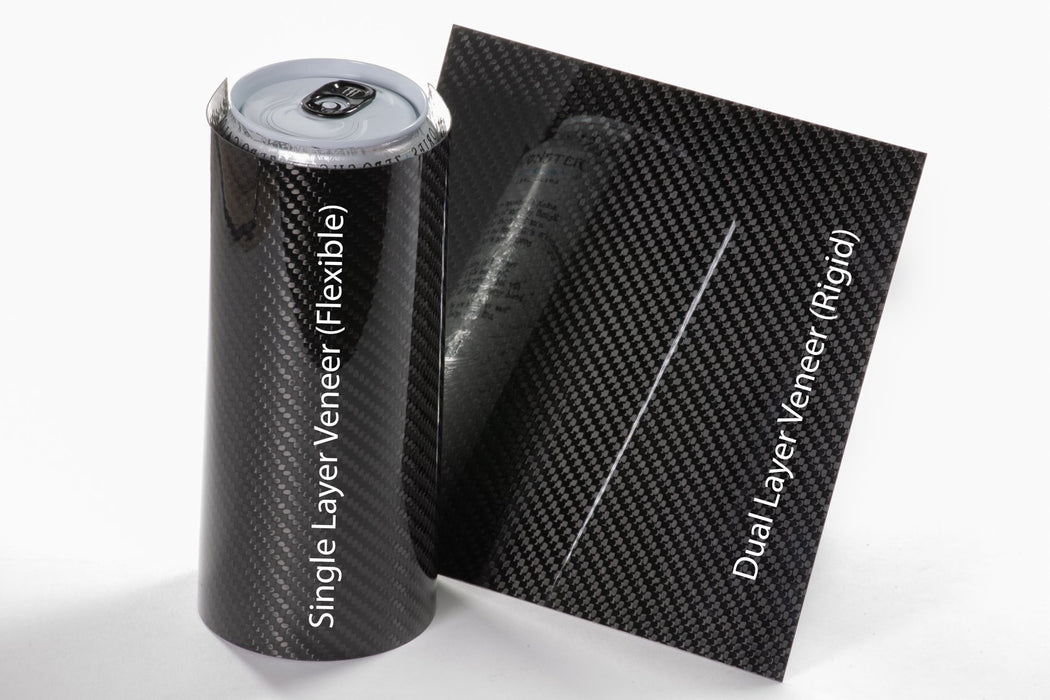 This veneer is made from honeycomb weave carbon fiber fabric with 3k tow. The visual appearnce changes based on how light hits the panel. At some angles the honeycomb pattern appears to be brighter, and at others it appears darker than the surrounding material. The true effect is one that can only be experienced in person. The fabric is encased in a clear stuctural epoxy with one high gloss side for maximum visual appeal, and a peel ply side for bonding applications that require no prep work.
Single VS Double Layers Veneers
Choose single layer veneers for applications that require flexibility in one plane and choose double layer veneers for flat surfaces. All of our veneers are manufactured using high quality fiber and structural epoxy, so they can also be used for very small and lightweight structural components.
Tolerances
Length: ±.030 inches, Width: ±.030 inches, Thickness: ±.005 inches
3M 468MP Adhesive
For the easiest bonding experience, choose our high performance adhesive backing. We pre-apply this high performance acrylic adhesive to the veneer using techniques that ensure optimal bonding. These adhesive backed veneers can be machined, sanded and washed without damaging the adhesive. Once you are finished cutting your part, simply peel off the protective liner and stick your part to a clean dry surface. If an alternative bonding method is desired, epoxy is typically the strongest, and there are a wide range of epoxy adhesives available for most bonding applications.
Processing Information
All of our veneers are shipped with a protective plastic on the glossy side to preserve the finish during shipping, gluing, and cutting. The best way to cut carbon fiber reinforced epoxy materials is with a Waterjet or CNC Router with a vacuum hold down system. Hobbyists who do not have access to such machines often acheive great success with basic hand tools, rotary cutting and shaping tools. Carbide and diamond abrasive tooling are a great choice for making clean cuts in carbon fiber reinforced plastic. Silicon carbide sandpaper works great for smoothing edges. Dremel tools are often exclusively used by hobyists to make very nice parts. Single layer veneers can be cut with scissors or razor blades, but keep in mind that carbon fiber and fiberglass is very abrasive and will dull tools fast, especially those that are not made from very hard substances. Cutting with sharp tools will provide the best looking cuts, and reduce the chance for heat damage.